xxThe 2015 One-Act Play Festival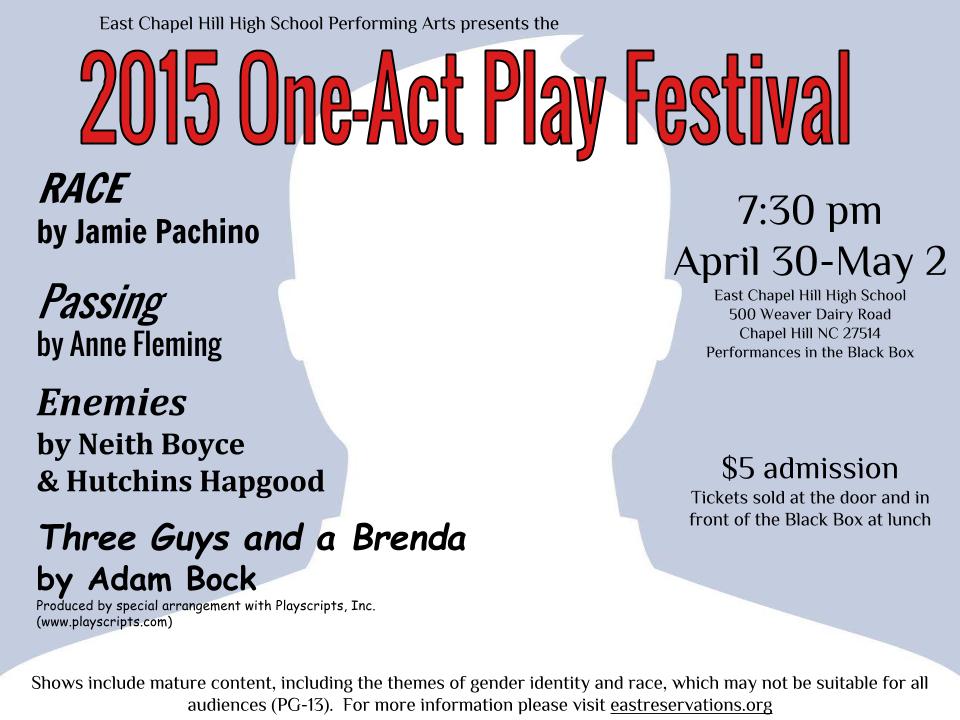 The East Chapel Hill High School One-Act Play Festival features four student-directed short plays that range from comedic and jovial to dramatic and thought-provoking.
RACE
by Jamie Pachino
Directed by Michelle Everette
Note from the director: "Race" is a piece of verbatim theater, meaning that every word said by an actor was previously said in interviews by real, everyday people.  Over 20 years ago, Studs Terkell asked Americans how they felt about the predominant at the time racial issue in the country and recorded their answers.  This one-act is a cropped version of the stories and opinions of those Americans, all of which are still very much prevalent in today's society.  As 2014 comes to a close and another year begins, it is imperative that we do not repeat the injustice and hostility and ignorance that dominated our country for a time.  The only way to cure this ignorance and to keep it from following us into the next year and the year after that is to have a discussion that presents the point of view of every different human living in this community.  The word "race" provokes many different emotions and holds many different connotations for different people.  It is important that we hear all of these perspectives so that we can begin to understand each other better.  Only then can we begin to see progress.
Passing
by Anne Fleming
Directed by Laura Duque
Note from the director: "Passing" is a contemporary drama which confronts the topics of gender identity and sexual orientation.  It tells the story of a transgender teen with references to the death of American transgender teen, Brandon Teena, raped and assassinated in 1993.  The play also hints at controversial issues in today's world such as mental health, gender equality, and LGBTQ+ rights.  Labeled PG-13, the play is not recommended for a younger audience but is not restricted.
Enemies
by Neith Boyce & Hutchins Hapgood
Directed by Brenna Recny
Three Guys and a Brenda
by Adam Bock
Directed by Danielle Katz
Produced by special arrangement with Playscripts, Inc.
(www.playscripts.com)
Programs
Three Guys and a Brenda
by Adam Bock
Produced by special arrangement with Playscripts, Inc.
(www.playscripts.com)
Director-Danielle Katz
Stage Manager-Sam Peltzer
Bob-Melanie McCoy
Joe-Suzanne Acton
Randall-Alie Webb
Brenda-Mira Silveira
RACE
by Jamie Pachino
Director-Michelle Everette
Assistant Director-Angelica Goana
Stage Manager-Brandon Dale
White Man-Evan Statile
White Woman-Dora Pekec
Black Man-Arrington Luck
Black Woman-Zaynah Gatling
This show was adapted from the verbatim piece RACE by Studs Terkel. The link to Studs' website containing the names of the people he interviewed is located below:
http://conversations.studsterkel.org/race.php
Passing
by Anne Fleming
Director-Laura Duque
Stage Manager-Marianna Levithan
Gail-Caroline Banks Sharp
Dan-Ems Balcom
Enemies
by Neith Boyce and Hutchins Hapgood
Director-Brenna Recny
Stage Manager-Susannah Broun
He-Austin Lord
She-Ariel Dale
Production Team
Producer-Hope Hynes Love
RACE Dramaturg-Sarah Sconyers
Production Stage Manager-Tynan Miller
Publicity-Simone Speizer, Miranda Pratt
Technical Team
Set Designer-Samantha Yi
Lighting Designers-Baxter Barrett, David Castleberry
Sound Designer-Jack Wright
Sound Board Operator-Natalie Perez
Prop Designer-Camille Witt
Costume Designers-Maria Peralta, Libby Kelly
Hair and Makeup Designers-Maria Peralta, Libby Kelly
Box Office and House
Box Office-Kendall Chan, Simone Speizer, Miranda Pratt, Dean Kivotidis, Hope Hynes Love, Jeff Alguire
Head Usher-Tynan Miller
Ushers-Dean Kivotidis, Jacob Childres
Patrons
Celia LaBranche
Burkhard "Wake" Huey
The Fox Family
Victoria Breeden
James Jolles
Ana Radulescu
Caroline Sherman
Theresa Grywalski
PTSA of Chapel Hill Carrboro City Schools
Hugh & Joyce Rosser
The Lamason Family
The Poole Family
Caroline Sherman
Victoria Breeden
The Radulescu Family
Community Youth Theater
Victoria Park Florist
Trader Joe's of Chapel Hill
The Olgesby Family
Bobbi Caraher
Sandy Daston
Walmart
Associated Scaffolding
The Lee Family
Carol Manzon
Patti & Holden Thorp
The Wiener Family
Andre Tamers & Cindy Cuomo
The Katz Family
The Thomason Family
Wells Fargo Bank
The Bevington Family
Rus Hames & Arcadis
Pamela Krakow
Gail Zelig
Arshavsky Family
Anne Fleming
The Moore Family
Framemakers
Thank You
Dale Wolfe
Jeff Alguire 🙂
Playmakers Repertory Company
Hope Hynes Love
Carolyn Cotton
Drake Love
Camille Witt
Jack Wright
Laverne Rigsbee
Ms. Ward Satterfield
Sarah Sconyers
Youth Advocates for Change
Selection Committee
After School Production Season Mission Statement
Over the course of four years, we seek to educate and prepare students to participate in professional and recreational theatrical experiences for a lifetime beyond the high school environment.
With that in mind, we seek to expose audiences, performers, and technicians to as wide a variety of genres, artistic processes and themes as possible while producing shows we feel present age and talent appropriate challenges, foster intellectual and emotional growth, and spark relevant discussions within the school community.
We seek to produce, cast and advertise shows in ways that are both participation and curriculum inclusive.